The PRODATA Thermochemical database. A database applied for uranium mining operations
This document presents the thermochemical data, i.e. constants and functions, that are included in the database PRODATA, which is developed to answer the needs of ORANO Mining in terms of exploration, exploitation, and remediation of uranium mining facilities. The reactions for complexation, dissolution-precipitation and gas solubility can be exported in three database files that can be used by either software packages PHREEQC, CHESS, and Geochemist's WorkBench (GWB). The PRODATA database includes data for uranium and radium, and all elements that are necessary to model their comportment in the different contexts for a total of 38 elements. The data selection is based on CODATA and NEA-OECD selections. The coherency and traceability are checked whenever possible. The ionic strength correction is done through either the Davies equation or the specific ion interaction theory (SIT). Application of the database files is proposed for a solution that is containing the 38 elements included in PRODATA. Pourbaix diagrams at varying O2(g) fugacity, and speciations at atmospheric O2(g) and 1 atm H2(g), are proposed to exemplify the performance of the database.
Ce document présente les données thermochimiques, constants et fonctions, incluses dans la base de données PRODATA, développée pour répondre aux besoins d'ORANO Mining en terme d'exploration, d'exploitation et de remédiation des activités minières pour l'uranium. Les réactions de complexation, dissolution-précipitation de phases solides et de gaz peuvent être exportées sous forme de fichiers qui peuvent être utilisés par chacun des trois logiciels PHREEQC, CHESS, et Geochemist's WorkBench (GWB). La base PRODATA inclut les données pour l'uranium et le radium, ainsi que pour les éléments nécessaires à la simulation de leur comportement dans différents contextes pour un total de 38 éléments. La sélection des données est fondée sur celles de CODATA et de la base de l'OCDE-AEN. La cohérence et la traçabilité sont vérifiées autant que possible. La correction de force ionique est faite soit par l'équation de Davies, soit par la théorie de l'interaction spécifique (SIT). Des applications des fichiers d'extraction sont proposées pour des solutions contenant les 38 éléments inclus dans PRODATA. Des diagrammes de Pourbaix en fonction de la pression partielle d'O2(g), et des diagrammes de spéciations à pression atmosphérique d'O2(g) et à 1 atm d'H2(g) sont proposés afin de tester les performances de la base de données.
Fichier principal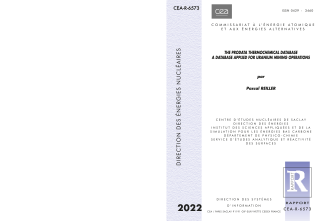 CEA-R 6573.pdf (12.74 Mo)
Télécharger le fichier
Origin : Files produced by the author(s)