Agents conversationnels: Enjeux d'éthique
Conversational agents (also called "chatbots") are digital systems capable of interacting with their users in natural language, both written and spoken. Today, they can be found in many everyday objects (smartphones, connected speakers, cars, websites): they provide health advice, facilitate recruitment, manage after-sales services, provide remote training, help vulnerable people, etc. In France and at European level, conversational agents, because they rely on personal data, are beginning to attract the attention of the authorities, regulators and the public. Beyond these regulatory issues, many ethical questions arise. What behaviours and beliefs do we have in relation to conversational agents? Can a chatbot lie to its user? Will the mistakes of conversational agents be more acceptable than those of a human being? Should a chatbot systematically imitate a human being? Among the various ethical issues identified by the committee, the main tensions concern the blurring of the boundaries between a machine and a human being, the imitation of language and emotions by chatbots, and the ability of conversational agents to manipulate human interlocutors.
Les agents conversationnels (aussi appelés « chatbots ») sont des systèmes numériques capables d'interagir avec leurs utilisateurs en langage naturel, à l'écrit comme à l'oral. Aujourd'hui, on en trouve dans de nombreux objets de notre quotidien (smartphones, enceintes connectées, voitures, sites internet) : ils apportent des conseils de santé, facilitent le recrutement, gèrent des services après-vente, forment à distance, aident les personnes vulnérables, etc. L'utilisation de ces systèmes ne cesse de croître. Leur performance grandit aussi très vite : l'utilisation des « transformeurs » — gigantesques réseaux de neurones très performants — révolutionne le traitement automatique du langage et tout particulièrement la conception des agents conversationnels. Les concepteurs de ces systèmes envisagent de nouveaux développements capables de bouleverser certains aspects de notre vie : des « amis virtuels », des « anges gardiens » ou encore des « deadbots » (chatbots entraînés à partir des données d'une personne défunte). En France comme au niveau européen, les agents conversationnels, parce qu'ils s'appuient sur des données personnelles, commencent à attirer l'attention des autorités, des régulateurs et du public . Au-delà de ces points réglementaires, se posent de nombreuses questions éthiques. Quels comportements et croyances avons-nous par rapport aux agents conversationnels ? Un chatbot peut-il mentir à son utilisateur ? Les erreurs des agents conversationnels seront-elles plus acceptables que celles d'un être humain ? Un chatbot doit-il imiter systématiquement l'être humain ? Pour enrichir sa réflexion et sensibiliser aux questions éthiques, le CNPEN a mis en place un appel à contribution . Il a reçu une centaine de réponses individuelles ou collectives. Parmi les différents enjeux d'éthique qu'identifie le comité, les principales tensions concernent le brouillage des frontières entre une machine et un être humain, l'imitation du langage et des émotions par les chatbots, ainsi que la capacité des agents conversationnels à manipuler les interlocuteurs humains. L'avis s'adresse aux industriels en proposant de mettre en œuvre dix principes de conception des chatbots. Treize préconisations sont formulées à l'adresse des autorités publiques qui ont la responsabilité d'accroître l'effort de formation, d'éducation, mais aussi d'expérimentations à l'échelle de la société. Enfin, l'avis énonce onze questions qui pourraient faire l'objet de nouveaux travaux de recherche. La réflexion sur les enjeux d'éthique des agents conversationnels, relative tant à leurs usages qu'à leur conception, devra être poursuivie en tenant compte des évolutions culturelles et technologiques.
Fichier principal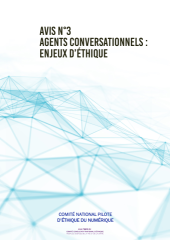 2_CNPEN_26nov_210297_WEB.pdf (3.34 Mo)
Télécharger le fichier
Origin : Files produced by the author(s)